Whether you currently ship to customers or not, weintegrate requires you to map this setting within the apps configuration, in the event you require shipping at some point (even if you have a POS you might ship direct to customer).
Within the Sales & Deposits tab of each Store's Connection settings, set the Shipping Line Item field to one of the Service Items imported from your QuickBooks Online company.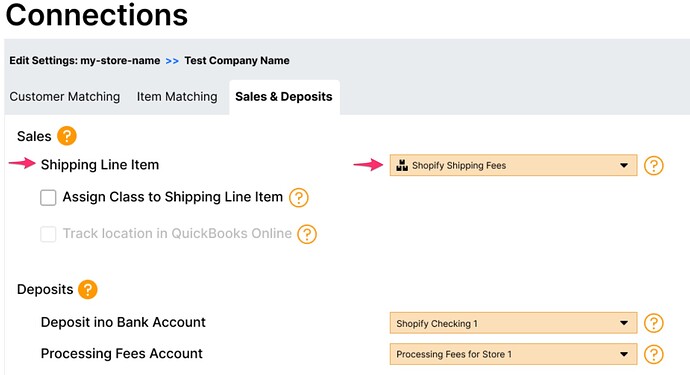 ---
The reason you will need to map a Shipping Line Item, is because weintegrate provides you with the option of overriding sales tax on your QBO Sales Receipts and Refund Receipts with sales tax directly from your Shopify store. This ensures the most accurate data between both systems and will most likely make your reconciliation process easier and faster. To override QBO Sales and Refunds with Shopify sales tax, it requires (as per QuickBooks' guidance) that Shipping Fees be mapped as a line item instead of at the bottom of the QBO Receipts.
Learn how to:
Create a Product in QBO for Mapping Shipping Fees from Shopify
Assign a QBO Class to Shipping Line Items on Sales and Refunds