This system wide Sales Default setting in weintegrate offers an option to include a Shipping Date to your Shopify sale when it loads into the weintegrate app. If you have a standard policy to ship your orders within a specific shipping window (e.g. within 2 days from the date of the sale), setting this default in weintegrate will assist you with shipping on time.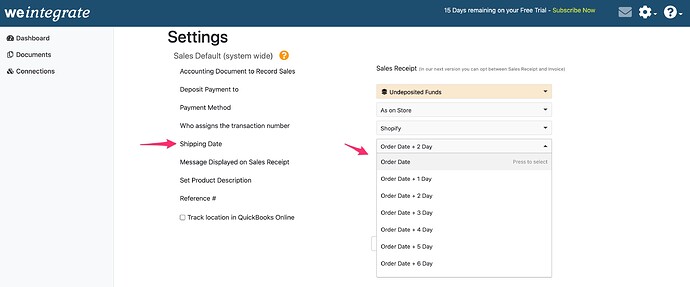 weintegrate does not preset this value for you, which will not assign a shipping date in our app.
The first option you can set is 'Order Date'. Doing so advises weintegrate that your general shipping policy is to ship the same day as the sale.
Additional options for this field are 'Order Date + 1 Day' through 'Order Date + 7 Days'. Each one of these options will set the Shipping Date in weintegrate to be the specified number of days plus the date of sale. For example if in this field you set the Shipping Date to be 'Order Date + 4 Days', and the date of the sale in Shopify is 04/21/2020, then the Shipping Date in weintegrate will be set to 04/25/2020.
The Sales Default screen is available in both the Configuration Setup Wizard and the Connection management section of the app.
Click here to learn about setting the Message Displayed on Sales Receipt default for integrating with QuickBooks Online.